Our know-how
Since 1976, the Rillettes de l'Ermitage have been associating the quality of the best raw material together with a genuine hand-crafted know-how with a slow 12 hours simmering process so as to produce their top-of-the-range rillettes.
Thanks to our manufacturing method confirmed by validation tests, all our 100% natural rillettes are delivered with a huge shelflife in comparison with our competitors. (70 days BBD with supporting analysis for worldwide export ).
We are from now on glad to introduce you:
We produce only one product : our rillettes – we are specialists – no crossing risks.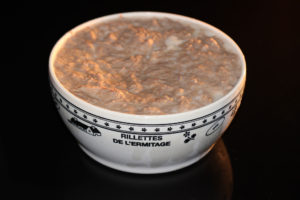 Activities
We offer :
Pure Pork-rillettes
Goose-rillettes (80%)
Duck-rillettes (70%)
Poultry-rillettes (100%)
Rillettes of Rabbit
Rillettes of Chicken roasted taste

Always 100% natural: preservative free, gluten free, nitrates and allergens free
Packaging
All rillettes are proposed through different packaging so as to adapt the product to the customers. Examples:
Self-service store range: 50g, 100g, 125g, 180g, 200g, 250g
Wholesale & Retail fresh cut range: bars or logs and Terrines (500g, 1 & 2 Kg)
Christmas Products and Events: ceramics, 3 Kg woodcutshape, half moon bars, etc…